George Isaac - Family Business Consultant, Board Advisor & Prior CEO of Isaac Family Businesses [The Business of Family]
4 January 2021
46 mins 56 secs
Season 1
Tags
George Isaac's grandfather founded the first Isaac family businesses in 1899 in Bryan, Ohio, beginning a long history of serial entrepreneurship and the subsequent creation of several successful enterprises. A lot has changed since then, but the Isaac Group continues to thrive, now under board oversight and management by its third and fourth generation.
George grew up as a child of family business owners and has run several Isaac multigenerational family businesses as a CEO and board member. More recently, he is the founder and president of GAI Capital Ltd., a family business consulting firm and the author of a newly released book titled Your Business, Your Family, Your Legacy: Building a Multigenerational Family Business That Lasts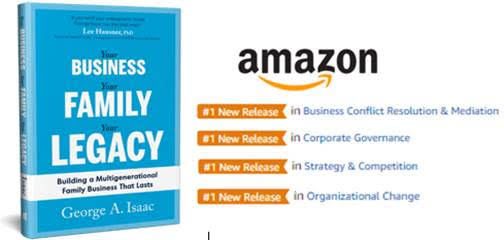 Standout Quotes:
"I realized that some of the things I did in running our family business and what a lot of people are doing today are not best practices"
"I used to think that the goal was to get everybody in the family to stay in the family business and figure out a way to make them live happily ever after... My goal now is to understand the real needs of each family member and see if they fit within what the family business is going to be about"
"The majority can rule and figure out what they want to do but you need to deal with the minority issues... so that you can satisfy their needs"
"The most important to me of the whole thing is just being certain that your ownership group is aligned"
"There are times when you should sell your family business"
"Shareholder returns are much different than business returns... Figuring out how you provide real-life shareholder returns is an important step that many of us don't recognize"
"Money is not everything by any means"
Key Takeaways:
Although George had gotten involved in the family business at a very early age and had planned to join fully after school, he decided to go out and get outside experience first.
George notes that the Authoritarian leadership style of his father, although a good leader, made for a rather weak management team generally.
The 2 conceptual parts to George's 9-step succession planning roadmap: Family Transition Planning and Business Transition Planning.
George explains that formerly his goal would be to make everyone stay in the family business and be happy, but now he tries to understand the individual needs of each family member, to see if they fit into the family business as a whole.
It is necessary to revisit the topic of people's needs and be sure the business is aligned with taking care of these needs because those needs change over time.
The 2 Basic components of selling the family business: the financial side and the personal side.
Headwinds that perpetuate a multi-generational family wealth: FIST ( Family units, Inflation, Spending rate, Taxes)
George shares some insight from the book "Everybody matters", describing how attention to the little things can go a long way in making workers satisfied
Think about what you want your legacy to be; are you aligning yourself with that legacy?
Be Curious and Have Empathy
Episode Timeline:
[00:49] A short overview of George's background and the Isaac family business
[05:12] George is the 3rd generation of the family business
[05:28] What sort of product lines is the business in?
[06:22] How did your story evolve into the family advisory work?
[09:44] About the A 9-step succession planning roadmap from George's book
[17:16] George highlights implications to consider in selling a family business
[23:37] The Family Business Wealth Evaporation Trap
[33:05] F.I.S.T
[36:51] Is it possible to maintain wealth at a reasonable level even though the family grows at a compound rate as the generations go on?
[39:47] George shares his opinion about children inheriting wealth.
[41:51] George recommends the book "Everybody Matters" by Bob Chapman
[44:31] From George to his kids
*For more episodes go to *
BusinessOfFamily.net
Sign up for The Business of Family Newsletter at https://www.businessoffamily.net/newsletter
Follow Mike on Twitter @MikeBoyd
If you feel it's appropriate, I'd so appreciate you taking 30 seconds to Leave a Review on iTunes, I receive a notification of each review. Thank you!